The January Blues are catching up to me, and causing me to feel a little un-inspired. Will you help me get out of my funk?
I'm re-posting one of my first entries that tells about my absolute favorite artist of all time. I'm doing this with the hope that, after you read this, you will share with me your absolute favorite artist of all time and why. If you would like to do a post about it on your blog, leave me a link, and I'll link back to you. Or just leave a comment! I look forward to getting out of this yucky funk, and finding some great artists!
This painting shaped my life. It led me to my major in Art History and began my love affair with art. When I was a freshman in college, my roommate and I loved to download free screensavers. One week, I downloaded a screensaver of Vermeer. I had never heard of him, but hey! It was a free screensaver.
Whenever this painting came up on the screensaver, I stopped whatever I was doing and just stared. It was so beautiful and stunning to me. There was something in her eyes that made me want to know who she was and why she was painted. Thus began my quest to learn all about Vermeer. I could not find much information about Vermeer at that time; only that he painted 35 paintings in his life, had many children, a Catholic wife, and was very poor.
There are many more resources for learning about Vermeer now. This website has oodles of information. I was thrilled when I found it, and I'm slowly making my way through it.
It is safe to say that Vermeer is my favorite artist of all time. Here are the Vermeers I have seen in real life. Each one was so stunning. I love to guess what the people in the paintings are thinking; what their lives are like. Vermeer did such a fabulous job of capturing quiet moments. His detail and color are absolutely incredible.
Allegory of Faith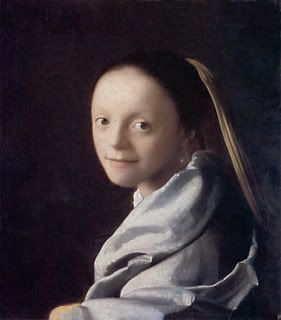 Study of a Young Woman
Girl Interrupted in Her Music
The Lacemaker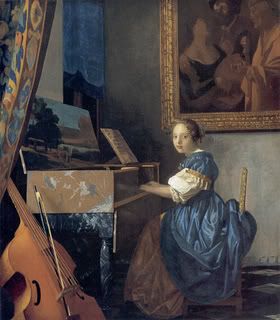 A Lady Seated at a Virginal
A Lady Standing at a Virginal
A Maid Asleep The cloth on the table looks so real when you are standing in front of this painting.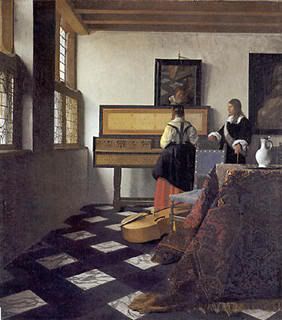 The Music Lesson
Officer and Laughing Girl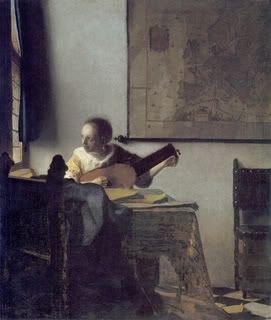 Woman with a Lute
Mistress and Maid. When you walk by the room where this painting hangs (Frick Collection, NYC), the yellow coat catches your eye above anything else in that room. It is stunning.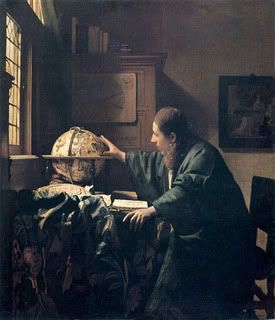 The Astronomer. My absolute FAVORITE of all the Vermeers. My husband found this painting in the Louvre before me, and just stood there gleefully grinning, as if he had won the prized egg in the Easter egg hunt. He was so thrilled to be the one to show me my favorite painting!
What do you think? Are you in love yet?
Related Posts via Taxonomies