Nativity scenes are a big deal in my family.  My mother has dozens of them, all from different places in the world that she or her children have been. 
I have 4 brothers who have served religious missions for our church, The Church of Jesus Christ of Latter Day Saints.  When the oldest returned from Argentina, he brought a lovely nativity set for my mother.  That set the tradition for my brothers to follow.  From her other boys, she was given one from The Canary Islands in Spain, Mexico, and Oklahoma.  (Yes, Oklahoma.  We all wondered what he would bring back, but it turns out there is a Precious Moments museum out there!). 
I didn't serve a mission, but when I graduated from college, my parents sent my husband and me to London and Paris.  After searching everywhere for a nativity set in both cities (during the month of September), we were ready to give up.  Then, we realized that the whole of Europe is filled with nativity scenes- in painting and stained glass form!  We found some postcards of scenes from the nativity from the stained glass of Notre Dame in Paris, and had them framed to give to my mother.
My fifth brother is currently serving a mission in Ohio.  I'm sure it will be hard to find an Ohio-an representation of the nativity, but I'm sure he can do it!
My parents recently returned from a trip to Jerusalem, so I knew we were going to get a nativity set from there.  I was so excited to open the present Christmas morning, and was not disappointed at it's beauty!
Isn't it gorgeous?  I love that the angel and star are a part of the scenery.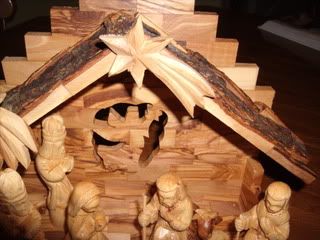 Do you have a special nativity in your home?
Related Posts via Taxonomies