Before you read this post and my declaration of Paris as the greatest city in the world, first know that I am (sadly) NOT some fabulous world traveler.  I've been to London, Paris, across the border to Mexico for a few minutes, a couple spots in Canada, and some major cities in America.  I know there are people who truly HAVE been all over the world, and would have a much more authoritative opinion on the city of Paris.  That being said, however, Paris is THE most magical city in the world!  And the Eiffel Tower is the best symbol of this magical city.  The funny thing is, the people of Paris considered the Eiffel Tower an eyesore when it was first built! 
I was truly blown away by the beauty and size of the Eiffel Tower.  It was a dream of mine to see it in real life.  I loved everything about Paris, so I love love love Marc Chagall's paintings of this magical city.  (I know, I know, I posted about Chagall last week but I just couldn't stop thinking about Paris after looking at his paintings all week.
I love this one.  It's so cheery!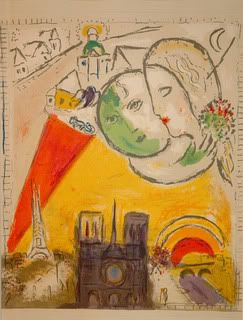 I was really thrilled to stumble upon this website with even more paintings of Paris by Marc Chagall.  And this one with paintings of the Eiffel Tower by many other artists.  I love this quote by Chagall about Paris:
I left my native land in 1910. At that moment I decided that I needed Paris. I came because I sought the light of Paris, its freedom, its refinement and the skills of the craft. Paris lit up my shadowy world like the sun.
*Sigh*  If I knew any French, I would say something really wistful and dreamy right here.
And now, for my own ridiculous pictures of the Eiffel Tower.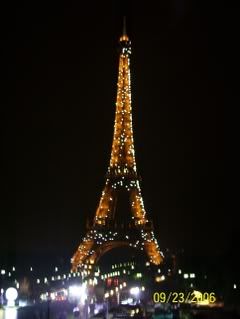 It twinkles at night!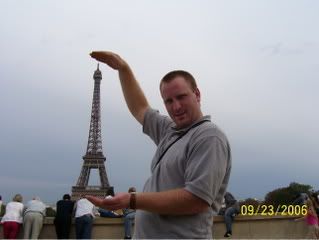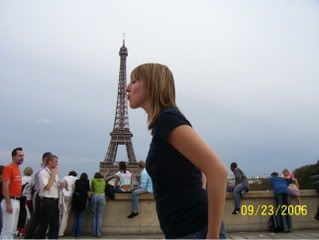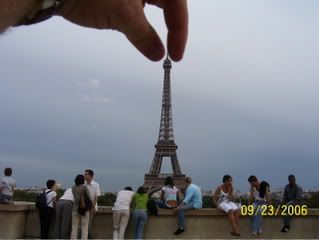 I told you they were ridiculous!